Sailing For Blondes Teaches Beginning Sailors and Sailors Wanting to Brush Up on Their Skills
to Understand How to Sail.
The Simulator Book – Learn Twice as Fast and Twice as Good
Sailing for Blondes
THE BOOK
Learn Twice as Fast and Twice as Good
This book is the most unique sailing instruction book on the market today.
The purpose of Sailing For Blondes, The Simulator Book, Learn Twice as Fast and Twice as Good is to give you a start-to-finish education during a typical full day of sailing. You will become involved with the storyline, the interesting crew on board, and your real-to-life learning experience. It sparkles with life while leaving lasting knowledge. The simulator-learning tool works seamlessly as a companion to the book to give you understanding in a way that is not boring!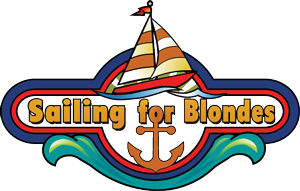 ABOUT YOUR BOOK
What is holding you back from becoming a great sailor? Are you unsure in your mind exactly how to sail or what to do? What are the circumstances that cause you difficulty and confusion? Sailing For Blondes, The Simulator Book, Learn Twice as Fast and Twice as Good 🙂 is the only step-by-step sailing fundamentals book known to the author that is NOT purely technical in its approach to sailing instruction. Each chapter in the book gives students a technical sailing concept, a fictional storyline, and lastly, the step-by-step learning dialogue on how to sail just as if they were actually on a sailboat. It keeps students engaged in an interactive way to learn sailing in the shortest, possible time. It is not dry or boring and it sparkles with life while leaving lasting knowledge.
ABOUT YOUR LEARNING EXPERIENCE
Joyce Matlock teaches new sailors and sailors wanting to brush up on their skills to understand how to sail. This book offers one of the best-combined teaching methods for men and women you can find on sailing instruction. It includes a patent-pending, hands-on learning tool called The Simulator that firmly fixes sailing concepts into your brain. You will use the sailing simulator throughout the book to seal your understanding of what you are reading. The title is a take-off on the Dummies series of books. When you use the sailing simulator while reading the book, you will easily understand how to sail.
ABOUT SAILING A BOAT
The patent-pending sailing simulator works just like sailing a boat. If you decide to learn to sail on your own, this book and simulator will speed your learning curve enormously. If you decide to take an on-the-water sailing course, this book and the companion simulator will prepare you with your mental edge of understanding so you can get your money's worth! The outcome will be an understanding of sailing basics and concepts and that's what you must learn to know how to sail a boat.
The book

presents multiple ways to learn. The sailing concept is explained, the storyline brings sailing to life, and the dialogue tells a student every step to take when learning to sail.
The style is based on proven learning theories and parallels Piaget's 1977 constructivist learning theory that is still being taught and used today. Text, story telling, visual presentation, transfer of existing knowledge, personal conversational involvement and use of the hands-on sailing simulator make for a learning experience that meets you where you are!
The book gives step-by-step instruction. It first gives an overview of, A Simple Explanation of How to Sail, and is then sectioned with step-by-step instruction from boarding the boat, the sailboat parts and sailing language, use of the points-of-sail simulator, simply sailing, returning to dock, and more.
The book is engaging. It is written to keep each student engaged in a learning process in an interesting and entertaining way while giving foundational learning in the shortest time possible.The book is unique. It is not like any other book written on sailing instruction. It simplifies sailing concepts for your brain and is therefore fun to do. Again, it is not dry or boring!
The book is great for sailing instructors. Use the book and simulator together to enable your students to succeed faster.
The author and creator,
Joyce Matlock, believed there was a better way to teach sailing

and the

points-of-sail,

and

this book and simulator

is

"it"

.
Sailing for Blondes
THE SIMULATOR BOOK
Learn Twice as Fast and Twice as Good
---
WHY I WROTE THE BOOK
I kept asking myself why was I having difficulty understanding how a boat sails? Once I finally understood it, I wanted to help others who were having the same problem. It took me a long time to learn from reading and studying technical sailing books and I didn't want other to go through that much pain and frustration! ☺
FOR MY SAILING FRIENDS
My book began as a simple and short written explanation on how to sail for my friends. I was explaining how easy it was to understand sailing by using what became my patent-pending simulator. I just wanted to show others at my sailing club how to learn to sail much easier. I really had no idea that it would develop into a book project that would take on a life of its own!
MY MASTER'S IN TEACHING
I got my Master's very late in life and have realized since that the benefit of getting it was to help me write my book. I did not know that at the time. I thought I was getting it because I wanted to teach and I did that, but it has become clear to me that my real calling was to teach others how to sail! My book is very unique in that it uses multiple proven theories on how people learn. There is conceptual information in the book, but more importantly it is presented in ways that encourage your brain to learn.
The conceptual sailing information is simple to understand text and also has visual illustrations on the points of sail that are critical to learning to sail a boat. The storyline connects to the conceptual information and adds the emotional joy of sailing and being with others. And, the conversational dialogue is the talk that you would hear on a sailboat when learning to sail. It offers real interaction with some light humor.
YOUR OUTCOME
I know you will learn by reading and studying my book and it will touch your brain and your heart whether you are blonde, brunette, redhead or a guy or gal.  ENJOY this book while learning to ride the wind!
SAILING FOR BLONDES IS TRUE-TO-LIFE, FACTUAL AND FUN.
AND, IT GUIDES YOU THROUGH THE SIMULATOR!